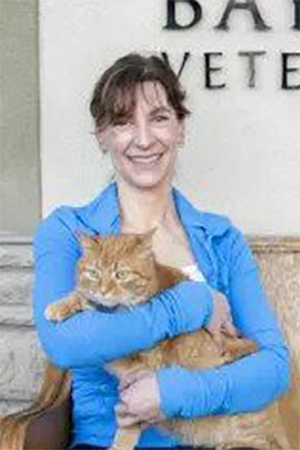 Dr. Naomi Scromeda, DVM
Naomi left Vancouver Island after high school and attended the Western College of Veterinary Medicine in Saskatoon graduating in 1986. She moved to Belleville in 1986 and practiced at Coleman Veterinary Hospital where she developed a special interest in surgery and pain management. After providing locum and emergency practice coverage for busy clinics in Trenton, Belleville, Picton, Peterborough and Kingston, Naomi purchased Bay Regional Veterinary Hospital with Dr. Linda Hack in 2000.
She is actively involved in the community as a board member of the Quinte District Veterinary Association and is a director of the Ontario Veterinary Medical Association. She is a contributing member of the IVAPM (International Veterinary Academy of Pain Management) and the AAFP (American Association of Feline Practitioners).
Naomi enjoys spending time with her two horses Jobe and Merit, competing in dressage and hunter/jumper shows. Other interests include hiking, skiing and biking. She shares her interests (except for the horses) with her husband Doug and her daughter Alia who is currently attending medical school at Queen's University. Naomi and Doug live under the supervision of their three cats; Java Bean, Meeka and Tango.