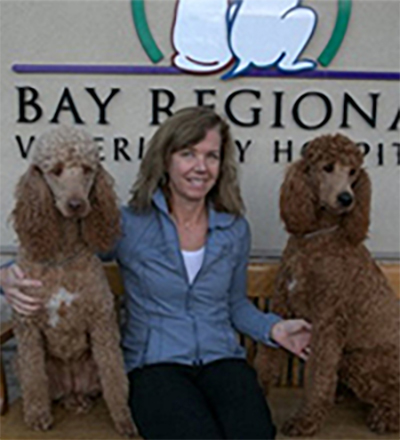 Dr. Linda Hack, DVM
Dr. Linda Hack graduated from the Ontario Veterinary College in 1987. After practicing mixed animal medicine and surgery in the Owen Sound area for two years, she moved to Belleville with her husband, Dr. Ron Herron, a large animal practitioner, presently at the Bay of Quinte Veterinary Services. Dr. Hack started working at the Bay Regional Veterinary Hospital in 1989 and purchased the clinic with Dr. Naomi Scromeda in 2000.
Dr. Hack has developed a special interest and passion for Veterinary Dentistry. She has undertaken many hours of continuing education including dental radiology courses in order to provide specialized dental services.
Dr. Hack and her husband have two daughters Emma and Katharine who are currently attending university. In her spare time Dr. Hack enjoys playing tennis, kickboxing and travelling. Her two red standard poodles Lucy and Simon may sometimes be seen happily greeting visitors to the clinic.